Written Translations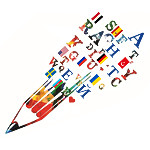 Ukrainian documents to be used abroad (or foreign documents to be used in Ukraine) should be professionally translated and notarized. The professional approach to documents translation ensures accuracy and completeness thereof.
The documents translation gives an opportunity to assert oneself globally. Where the documents before translation may be used solely in our country or in very limited number of countries, the translated documents may be used all over the world. Translation of the documents significantly enhances a chance to succeed internationally.
The main advantage of professional translations is that by use thereof one avoids mistakes. A professionally translated document may not be distinguished from the one made in foreign language. Such translation has credibility and makes a positive impression.
Translation of sensitive documents should met rigid formal requirements. Only a professional translator with vast practical background would be able to translate a document correctly. By ordering translations from professionals, you would save your money, there being no need to pay twice for repeated translation or editing an underquality translation.
The documents translation makes up a great helping hand for people willing to get education abroad, to find a job abroad, to emigrate or just to have a rest abroad. Good translations will help establishing useful contacts and opening many doors.
Antei Translation Agency offers prompt and high quality translation to 36 languages of the world. We have been in this business for more than 14 years. Over that period, we have gained vast experience in translating texts of any field and created smart corporate structure. It forms a basis for timely fulfillment of the set tasks and translation quality. For the purpose of rendering high quality services, a highly qualified manager is assigned to each client. The manager would clarify all the details and answer any your questions prior to an order fulfillment. Moreover, the translators holding relevant diplomas are assigned to each field of expertise.
Antei's professional translators would translate any kinds of texts for you from/to all the core languages. We translate business correspondence, articles, agreements, statements, diplomas, certificates and other documents, operation manuals, presentations and technical drawings. We will reliably and professionally translate everything you need.
The documents are translated by the practicing, experience and highly qualified translators and native-speaking translators.
Our company translates texts belonging to the fields of expertise as follows:
technical translation;
legal translation;
medical translation;
financial and economic translation;
translation of academic and educational texts,
industry-specific translation;
translation for tourism;
translation of immigration an emigration documents;
translation of personal documents.