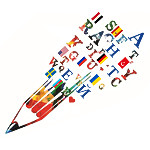 To use Ukrainian documents abroad (or foreign documents in Ukraine) you need a written translation of documents and their notarial certification. A professional approach to document translations ensures their accuracy and completeness.
Written translation of documents allows you to make yourself known to whole world. If not translated documents can be used only in our country or in a very limited number of countries, then the translated documents can be used worldwide. Translation of documents in Kyiv significantly increases the chances of international success.
The main advantage of professional translations is that they avoid mistakes. A professionally translated document does not differ from a written one in a foreign language. Such a translation inspires confidence and makes a positive impression.
Order translation of documents online
International Center "Antei" in Kyiv will quickly and efficiently translate into 36 languages. We have been working since 2003. During this time, we have gained extensive experience in the field of translation on any topic and competently built the structure of the company, which, in turn, is the basis for the timely implementation of the task and quality translation. In order to provide quality service for each client is assigned a personal manager who will clarify all the details and answer all your questions before ordering. Also, certified translators are assigned to each thematic area.
Professional translators in Kyiv will translate for you any documents and all types of texts into all foreign languages. We translate business correspondence, articles, contracts, statements, diplomas, certificates, and other documents, operation instructions, presentations, technical drawings.
We will translate everything you need reliably and professionally.
Quality translation of documents in Kyiv.
Do not rely on an automatic online translator to translate the required documents. Of course, speed and price are very important, but that's not all you need. When it comes to translating documents, remember: price is what you pay, and value is what you get. If you use free tools to translate documents, most probably you don't get significant benefits. In addition, there is a risk of errors and other undesirable consequences.
Written translation of documents in Kyiv meets strict formal requirements, as it is performed by practicing, experienced, highly qualified translators, as well as translators-native speakers. All translations are checked by another translator to make sure there are no gaps or errors. High-quality translations are guaranteed to be accepted in state institutions in Kyiv and other cities of Ukraine, as well as in foreign countries for which they are intended.
Our translators quickly and efficiently translate all documents:
Official translation of documents
Choose only the official translation agency in Kyiv. Entrust us with the translation of your documents, rely on our experience and professionalism. We understand the importance and uniqueness of each client, so we take into account your requirements and offer the best solutions to ensure quality translation of documents.
The translation of public documents must meet strict formal requirements. Only a professional translator with the necessary work experience will be able to translate the document correctly. By ordering written translations from professionals, you save money because you do not have to pay twice for re-translation or correction of poor translation.
Any foreign document submitted to official institutions of Ukraine must be translated into Ukrainian with a notarial certification. The notary certifies the competence of the translator, which confirms the required quality of translation. Our translations are guaranteed to be accepted by the state bodies of Ukraine.
Translation agency "Antei" translates texts in the following thematic areas:
Translation of documents is a good help for people who want to get an education abroad, find a job abroad, emigrate or do business in a foreign country. Quality translations will help to establish useful contacts and open many opportunities.
Affordable prices for translation of documents
When people compare the prices of translating documents, they find that the cost of translation varies from company to company. Our agency offers the most affordable prices in Kyiv for accurate and timely translation with guaranteed quality, because we have experience since 2003. If you are looking for the best option for translating personal documents, use our translation services at the best prices.
We have no hidden fees. We do not charge an additional fee for adjustments or corrections. Just call our specialists and find out the exact and final cost of translating your documents by phone. This is very convenient because you will immediately know exactly how much to pay.
Prices for translation of documents Kyiv and Ukraine.
Language
Translation of a standard document * (from Ukrainian)
Translation of text
(1800 characters with spaces**)
Translation of specific topics ***
(technical, legal, scientific, medical, literary)
Ukranian, Russian
100
120
от 130
English
180
180
от 200
German
180
180
от 200
Spanish
180
180
от 200
Italian
180
180
от 200
Portuguese
180
180
от 200
French
180
180
от 200
Polish
180
180
от 200
Azerbaijani
200
220
от 220
Arabic
250
250
от 250
Bulgarian
200
200
от 200
Armenian
200
200
от 200
Dutch
250
270
от 280
Greek
200
220
от 220
Georgian
200
220
от 220
Estonian
200
220
от 220
Hebrew
250
270
от 300
Chinese
250
300
от 300
Latvian
250
270
от 300
Lithuanian
250
270
от 300
Romanian
200
220
от 220
Serbian
200
220
от 220
Slovak
220
250
от 220
Slovenian
220
250
от 250
Turkish
200
220
от 250
Hungarian
200
200
от 220
Finnish
250
270
от 300
Croatian
200
200
от 200
Czech
200
200
от 200
Danish
350
350
от 350
Korean
350
320
от 350
Norwegian
350
350
от 350
Swedish
350
350
от 350
Japanese
300
300
от 300
Vietnamese
250
270
от 300
Farsi, Dari
300
300
от 310
Belorussian
150
160
от 170
The urgent execution of translations should be specified.
The cost of translation includes: translation, proofreading, computer typing, printout, electronic copy.
Notarial certification of the translation costs UAH 220
Standard documents:
* Standard documents include:
Certificates of birth, marriage, divorce, change of surname, death; Educational documents (plastic); certificates of no criminal record, residence certificates, certificates from the bank, certificates of employment.
All these documents are without apostille.
** 1800 characters with spaces - this is 1 conventional translation page.
*** In some cases (texts of specific topics) the cost need to be specified.
Italian accredited translation
| Documents | Price |
| --- | --- |
| Registry office certificates (marriage, divorce, birth, death) | 1190 UAH |
| Certificate of no criminal record, residence certificate | 1430 UAH |
| Extract | 1780 UAH |
| Certificate, diploma (plastic, which are apostilled in 10 working days) | 1780 UAH |
| Application | 1580 UAH |
| Court decision, supplements to educational documents and other non-standard documents | от 1680 UAH |
Copies of passports are required. All surnames that are in the document need spelling.
The certification is carried out exclusively if there is a power of attorney from the client to our employee.
French and Czech accredited translation
| Document Title | French | Czech (without an apostille) |
| --- | --- | --- |
| Standard documents (certificates, certificates of no criminal record, FRRO certificates, diplomas, certificates) | 450 UAH. | from 600 UAH. |
| Diploma supplement, application, court decisions | from 450 UAH. | from 700 UAH. |
Order translation of documents online