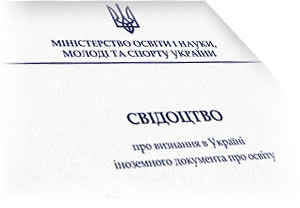 If you have been educated abroad and want your documents to be recognized in Ukraine for further study or employment, then you need to carry out the nostrification procedure.
Nostrification is a procedure of recognition of foreign documents on education, which is carried out by establishing compliance of academic, professional rights and educational levels of foreign documents on education with state educational standards of Ukraine in order to ensure the rights of citizens educated in foreign countries to continue education and professional activity in Ukraine
The decision on nostrification in Ukraine is made by the Ministry of Education and Science, Youth and Sports of Ukraine. As a result of nostrification is issued a certificate of recognition of equivalence.
Order a Nostrification online
Nostrification procedure
The nostrification procedure includes the following steps:
Preparation of documents for nostrification;
Submission of documents to the Ministry of Education and Science, Youth and Sports of Ukraine;
Expert analysis;
Preparation of an expert opinion on the recognition of documents;
Issuance of a certificate stating the decision on equivalence.
Documents for nostrification
The following documents are required for nostrification:
Application for the recognition procedure;
Original documents (with an Apostille or legalized in accordance with the laws of the country in which the document is issued);
Certified translations of educational documents with simultaneous certification of notarized copies (Cost of notarial certification and translation).
Copies of documents on previous education;
A copy of the identity document of the owner of the documents;
Archive transcript from the educational institution where the education was received (if possible) and its notarized copy;
Identification code of the document owner.
Persons who have received an invitation to study from a university in Ukraine must provide a copy of this invitation.
Notarized power of attorney for employees of our company.
After preparation and submission of a package of documents for nostrification, the Ministry may decide to fully or partially recognize the equivalence of documents or to refuse to recognize the equivalence of documents on education;
Nostrification services
Recognition and confirmation of diplomas of universities, colleges, specialized schools, technical schools, private schools.
Nostrification of all diplomas and certificates:

law degree
degree in economics
teacher's diploma
medical degree
diploma of a pharmacist
diploma in pharmacy
diploma of medical assistant
Cost of nostrification services in Kyiv in the international center "Antei"
Regular nostrification
Term of recognition,
working days
Price, UAH
60
3200
50
3700
40
4200
Accelerated nostrification *
Term of recognition,
working days
Price, UAH
30
4400
20
4500
10
4700
5
5000
Certificate of commencement of the recognition procedure
* — not possible for all countries. Terms and cost are specified by the manager.
Order a Nostrification online